The 7th Asian Administrators Meeting on HIV/AIDS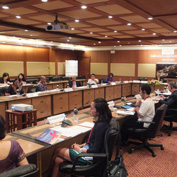 The hot weather in Bangkok welcomed the 20 participants from the Asia-Pacific region at the Queen Sirikit National Convention Center on November 19, 2013 for the 7th Asian Administrators Meeting on HIV/AIDS.   The meeting was held in conjunction with the 11th ICAAP (International Congress on AIDS in Asia and the Pacific).
Extensive discussions were held for 1 day where government administrators and civil society came together to share their experiences.  The meeting proved especially effecitve in showing each other the shortcomings and areas for need of improvement.
Each participant left the meeting with a strong will to take back the experiences learned from the meeting to implement into the policies back in each of their respective countries.
The following meeting will be held in Dhaka Bangladesh in 2015, which is also when the 12th ICAAP is going to be held.  I hope to see the participants once again in Dhaka.
(Tokyo, EJ)
Tags: The 7th Asian Administrators Meeting on HIV/AIDS, 国際会議